If you don't have experience with the print world you might find out that your business card you just printed might look quite different than what you saw in photoshop (or any other software you use). If you have been smart enough, the print you got is just a proof and now you can make some corrections to your design and send it again for another proof.
But before sending your file again read this post: here I want to share with you some tips I just learnt recently while designing my card.
1. Document Size, Units, Resolution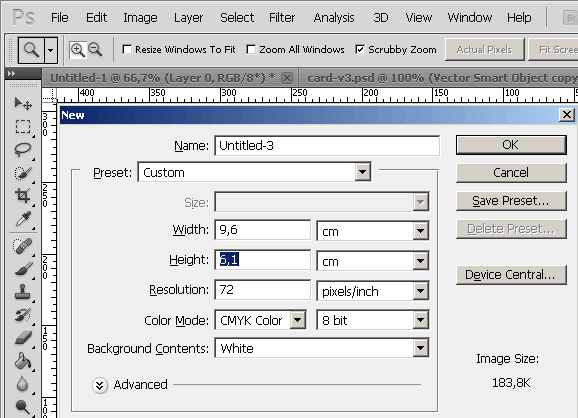 Unless you have a very good reason, stick to the standard business card size. You don't want your business card to not fit in someone's wallet or pocket, do you?
Start a new document 9,6 cm wide and 6,1 cm high - that in pixel is 1134 x 720 and select "CMYK Color" as Colour Mode
If like me you are using photoshop, go to "Edit > Preferences > Units & Rulers" and change the following:
Rulers unit to "cm" (centimeters) or "inches" if you are from a country that doesn't use the international metric system;
Type unit to "points";
Print Resolution: "300 pixels/Inch"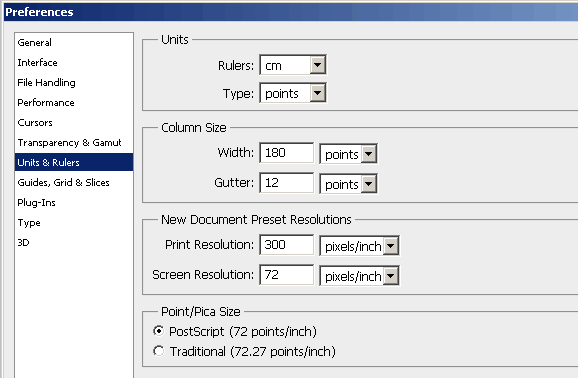 2. Why CMYK instead of RGB?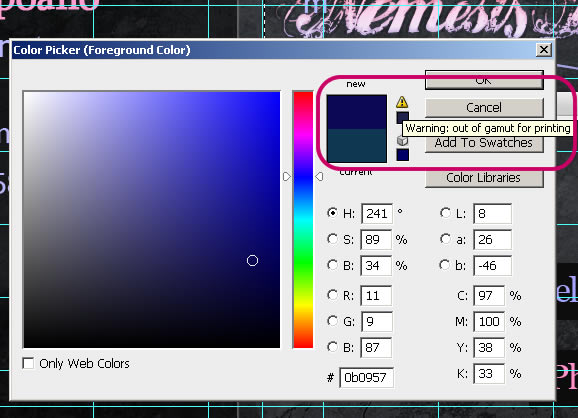 If you are a web designer and you don't know much about the print world you might be used to work in RGB colour mode (I hope at least you know what RGB does mean!).
The way that colors are mixed to produce what we see on a monitor is different than paper:
monitors use the additive RGB method - that mixes red, green and blue to produce all the other colors;
while monitors emight light, paper absorbs it, so it cannot use an additive method but a subtractive. This is what it is the CMYK, a subtractive colour method that uses cyan, magenta, yellow and black to subtract red, green and blue from light to produce the other colors;
If you send an RGB file to print it will be converted to CMYK before being printed. The result might look quite disappointing since CMYK as a much restricted colour gamut (that means the available range of colours).
So if you don't want to have surprises work in CMYK and pay attention when you chose a color, photoshop will tell you if it's out of gamut for print, see the image above.
3. Prepare the "Bleed"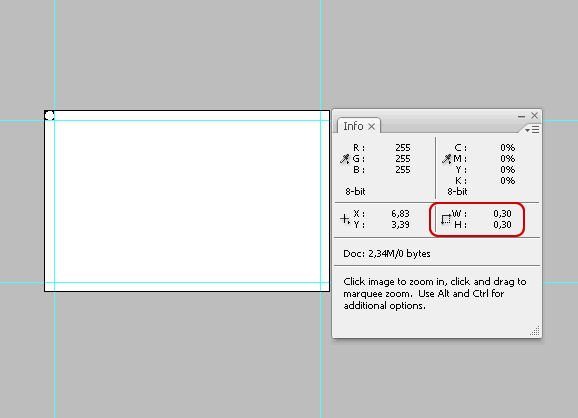 The bleed is an extra part that will be cut out. This is important because introduces a margin of error in the cropping step of the final prints.
Most print shops where I am now (Spain) require a 3 mm bleed, that is 0,3 cm and 35 pixels.
With the "Rectangular Marquee Tool", while holding the shift button, draw a square of 0,30 cm wide and high starting from the top-left corner. Insert two guides that coincide with the marquee edges. Move the square marquee to the bottom right corner and do the same.
Here it is, now you have a bleed! Remember that the part between the guides and the borders will be cut out.
4. Distance from the borders
For a better aesthetic and harmony, keep at least another 0,35 - 0,40 cm from the bleed guides.
5. Text and Logo Size
This is the most important element to care about when designing a business card. You don't want your clients to struggle when trying to read your contact details, do you?
Then, here's a list of tips about text size:
The minimum size you might use is 6 points, under than that the text will be hard to read;
Your name should be bigger than the address and contact information, try to increase the size of 1/2 points or try to put the text in bold (and why not try a combination of the two?)
The company name or logo should be minimum 12 points. If, like mine, you're logo is not available in photoshop to edit its size take my logo size as a reference: about 4 cm wide and 1 cm high
Consider 1 point more if you're using a dark background.
6. Use Fonts Designed for Print
Be sure the fonts you are using are designed for print. At same size, some fonts tend to print smaller compared to others. So be sure to test your design before sending it to print.
7. Testing: Make Proofs
I think all print shops let you do one or two print proofs - for free - before printing hundreds of business cards. Take advantage of this opportunity and make sure you like your proof.
If you want to save time, you can even print it with your office printer before printing a proof at the shop.
8. Increase Saturation
In some cases, from a colour point of view, the final print can look quite dull and disappointing, especially if you converted a file from RGB colour mode.
If your print proof look a bit dull or dark, try to increase the colour saturation a bit. This can be done either by adding an "Hue / Saturation" adjustment layer or, if you want more control, by chosing more saturated color for each element of your design.
On screen it will look a bit too much maybe, but the final print will look much better.
9. Ensure your text is readable
Ensure the text colour has a good contrast with its background colour. If you struggle reading your text try adding a rectangle sized background of a contrasting colour to improve its readability.
10. Keep It Simple
Here it comes a rule that is valid for everything, web-design, programming, and print-design: just Keep It Simple.
Do not over-design your business card. Too much detail might give poor results on paper.
Conclusion: Be Creative and Have Fun
"Rules Are There To Be Broken"
I read a lot of guidelines and rules over the internet about this topic. But not every rule is universal, for example while most people advice to write all your contact information on your business card I didn't write an address or a landline phone number on it. The reason is simple: in the last 2 years I have moved 6 times and switched between Italy and Spain 3 times, if that would happen again what would I do? Throw my business card and print them again? What if someone has still my old business card and decides to call me or come to see me?
Other articles suggest to people that work in two countries to use both languages on a business card, but come on that would look ugly. I work with people from all over europe, what the hell should I do write my card in 3 languages? Italian, Spanish and English? No thanks. Maybe one day I'll print 3 versions instead if needed - but I doubt it.
So to hell all those rules and have fun while designing your card!